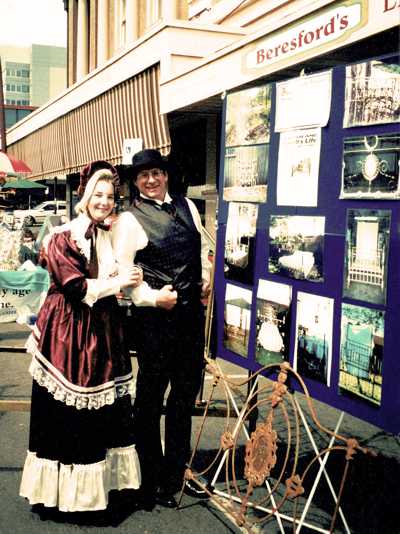 Timeless Antiques ..
The Early Days
Circa 2002 – Humble beginnings – Mark and Lynne Bennett.
Display at Russell Street Heritage Fair, Toowoomba.
Specialists in Antique Brass Bed Sales and Restorations.
Iron High Four Poster
Circa 1860 to 1880
Immaculate, Antique High Four Poster
tapered posts, identical detailed head and foot ends.
Powdercoat colour: Primrose and beautiful
example of lace canopy dressings.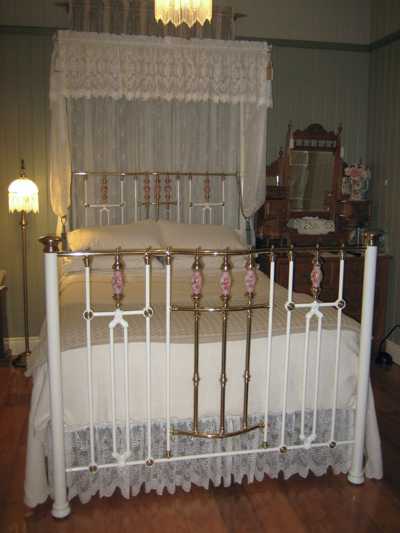 "Chelmer" Single Bow Front
Circa 1860 to 1880
Stunning, "Chelmer" design by Cribb and Foote.
Italian Bedstead, Low Four Poster
ten matching porcelains, rectangular tester.
Powdercoat colour: Antique White.
"Captain" Low Four Poster
Circa 1915 to 1920 – Mother of Pearl
King Size extension "Captain design".
French bedstead Low Four Poster,
restored handcrafted Mother of Pearl medallions and spindles.
Powdercoat Colour: Pearl White– Classic and Elegant finish.
About Timeless Antiques
Timeless Antiques are Australian specialists dedicated to preservation of original antique brass and iron beds from 1860's to 1930's. If you are looking for old fashioned personal service, high quality restorations with the advantage of being part of the restoration, you will enjoy being a Timeless Antiques client.   As you explore our webpage, within our photo gallery and articles sections, we have selected restoration photos and information, to give a sample of Timeless restoration history and help showcase the vast world of brass beds.
It is this type of personal attention Timeless clients enjoy with interaction opportunity, advantages and benefits of three decades of experience through old fashioned personalised service through education and consultation, allowing clients choices of customisation, as offered over a century ago.
Our History
The foundation stone of Timeless Antiques was laid over 35 years ago when a boy was given an old brass bed by his mother, never imagining it would spark a unique passion and grow into an original collection of over 18 tonnes of brass, cast iron, brass and porcelain beds.  The expanded collection includes a vast range of design styles from the earliest bed manufacturers, growing into possibly the largest collection in Queensland / Australia.